Finally,
Song requests you'll love to take!
Did you ever wish you could see the exact songs your audience is requesting and pick which would fit perfectly into your set? The wait is over. Filter requests by bpm and artist. Hide requests that you've already played. Have the most requested songs show up first. Best of all? You'll avoid frustrating interactions at the booth because guests can easily make requests on their phone with a personalized QR code and no app.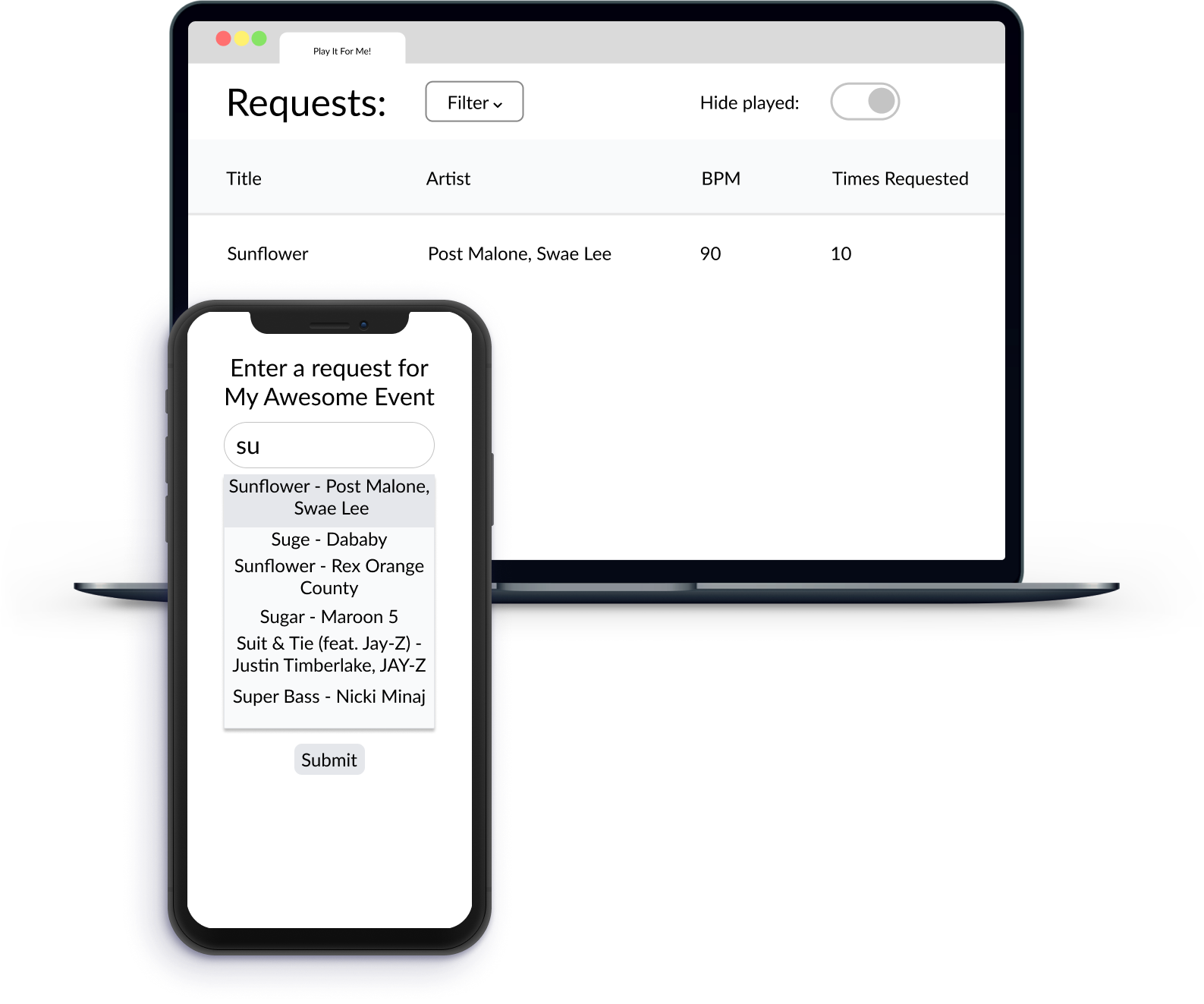 Here's how it works:
PlayItForMe generates custom a personal link and QR code for your event that you can share to audience members. Put your link or QR code on posters and other promo materials to easily get requests before the event, and post at your booth/stage or around the venue to grab requests easily while in the mix.
Find the perfect request, every time.
You know how frustrating it can be to take requests from your audience. Folks interrupt your mix for a specific song that may not fit with the tracks you are playing, and complain when they don't know if they'll be able to hear their favorite song. PlayItForMe assists you by providing your audience an easy way to request songs, and providing you with a dashboard to see exactly what you need to work requests smoothly into your set. Filter your requests by BPM range or by artist to always select the perfect track.
Simple pricing
PlayItForMe has two plans. Our first plan is free forever! We are supported by ads provided to users when they request a song. Our paid plan has just launched! Check out the pricing here! Our first paid feature is the ability to have a single qr code for all your events, and it is ad-free for a more professional feel. More features are on the way!
Always Improving
Get powered up with our upcoming features! We put out new features regularly to make PlayItForMe even better. Shoot us an email if you have any comments, questions, or suggestions!
Made with ❤️ in San Diego, CA